SPECIAL CAMPER CLUB DISCOUNTS
Use your DISCOUNT CODE and you will get a discounted rate for your Pitch holiday!
Are you an avid camper?
Are you a member of a Camper Club?
If an outdoor holiday is serious for you, Camping Village Tahiti is the perfect place for you!

Check out our shaded B Pitches and access SUPER ADVANTAGE RATES.
Fill out the Information Form or contact us by phone
indicating the COUPON code provided by your association
and come on vacation to Tahiti at DISCOUNTED PRICES!


Please note that:

♦ Promotion will not be applied without reservation (even showing your membership card)
♦ The promotion is subject to availability and cannot be combined
♦ We gladly accept your reservation up to 2 days before arrival
♦ We will assign you pitches based on current availability and subject to availability
  
Send us your 2022/23 MEMBERSHIP CARD in Jpeg (or pdf) format
so we can update the section dedicated to affiliations on our website.

Want to get to know our campsite?
We are always available for any gatherings.
 
THIS IS OUR MEMBERSHIP LIST:

Are you among our CAMPER CLUB members?
If not, ask your membership for the DISCOUNT CODE and let us know!

We may then add you among the Camper Clubs to which we will apply REDUCED RATES.

►Bimbi in camper veneto 
►Campeggio club Mantova 
►Campeggio club Padova 
►Campeggio club Varese 
►Camper club Bolzano 
►Camper club carping Carpi 
►Camper club I Giovani amici 
►Camper club I Girasoli 
►Camper club La granda
►Camper club Ropa 
►Camper club Trentino 
►Camperisti concordia 
►Camperisti Laika Kreos 
►Camperonline
►Club amici in caravan 
►Crema Sport
►Holiday Camper club Rovereto 
►Pleinair 
►Turismo Itinerante
►Tutto caravan 
►Vacanzelandia 
►In camper per passione
►Dolci Viaggi
►Camper Club Valseriana
loading form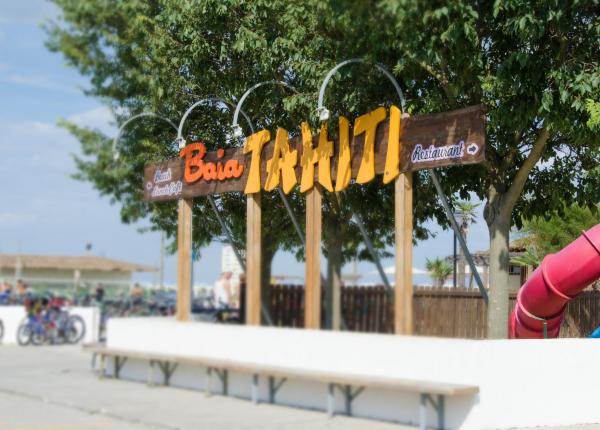 Strong points of the offer
3 Restaurants
5 pool areas
Pitches up to 100 m²
Free beach not equipped at Baia Tahiti
Car parking directly on the pitch
What our guests like
«(translated with google translate) Highly recommended, we stayed with 2 children aged 4 and 5 years. Really beautiful! Super organised. Ver...»

Sunshine37971747844
«(translated with google translate) For the second year we decided to spend a few days off at Camping Tahiti, last year we had a good time an...»

ilpigi78
«Nice village, 5 swimming pools that are a paradise for children. A train brings you to the beach (15 Min walking distance but there is a par...»

Silvia Pironi